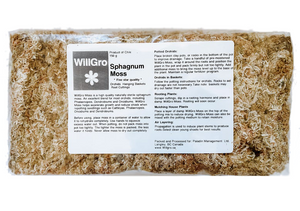 Willgro - Chilean Sphagnum Moss
$15.99

$15.99
Additional styles may be available via dropdown menu
---
* * PLEASE Note:
 Weight posted on the label varies based on moisture content at the time of packaging. * *
Will
Gro
Moss
helps
accelerate
growth
and
reduce
shock
when
rep
ot
ting
seed
lings
such
as
C
att
ley
as
,
Ph
ala
en
opsis
,
On
c
idium
s
,
and
D
end
rob
ium
s
.
It
holds
20
times
its
weight
in
water
and
is
an
excellent
soil
amendment
.
Before using, place moss in a container of water to allow it to rehydrate completely and squeeze out excess water. When potting, do not pack moss into the pot too tightly as the tighter the moss is packed, the less water it holds. Never allow moss to dry out completely. WillGro Moss holds 20 times its weight in water and is an excellent soil amendment.
Potted Orchids: 

Place broken clay pots, or rocks in the bottom of the pot to improve drainage. Take a handful of pre-moistened WilGro Moss, wrap it around the roots and position the plant in the pot and pack firmly but not too tightly. Add additional moss to bring the moss level up to the base of the plant. Maintain a regular fertilizer program. 
Orchids in Baskets: 

Follow the potting instructions for orchids. Rocks to aid drainage are not necessary. Take note: Baskets may dry out faster than pots. 
Rooting Plants: 
Scrape cuttings, dip in a rooting hormone, and place in damp WillGro Moss. Rooting will soon occur. 
Mulching House Plants: 
Place a layer of damp WillGro Moss on the top of the potting mix to reduce drying. WillGro Moss can also be mixed with the potting medium to retain moisture. 
Air Layering: 
Propagation is used to induce plant stems to produce roots. Select clean young shoots for best results. 
Product of Chile. 
Want to learn more about orchids?
The Foothills Orchid Society is a great place to start if you're looking for a social group.
"THE FOOTHILLS ORCHID SOCIETY, FOUNDED IN 1987, IS COMPRISED OF A GROUP OF PASSIONATE ORCHID ENTHUSIASTS IN THE CALGARY, ALBERTA AREA. SOCIETY MEMBERS VARY IN BACKGROUND AND INTERESTS BUT ALL MEMBERS SHARE A LOVE FOR ORCHIDS AND THEIR CULTURE. IF YOU'RE IN THE CALGARY AREA AND HAVE AN INTEREST IN ORCHIDS, WE ENCOURAGE YOU TO JOIN OUR SOCIETY."

http://www.foothillsorchidsociety.com/
SKU: MOS192-0FZL
---
We Also Recommend