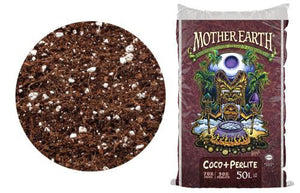 Mother Earth - Coco + Perlite 1.8CF (50L - 16.50kg)
$50.55

$50.55
Additional styles may be available via dropdown menu
---
With its unsurpassed texture, porosity and high cation-exchange capacity, Mother Earth® Coco + Perlite creates the perfect growing environment.
Mother Earth® Coco + Perlite Mix is a plant growth media that is a great alternative to potting soil and other traditional growing medias. Coconut coir is made from the fiber of coconut husks and is an alternative to peat-based medias.
Mother Earth® Coco + Perlite incorporates 70% of the finest coco pith and fiber blend as well as 30% perlite for better aeration and drainage. Increased aeration and more drainage allow gardeners to more aggressively feed without worrying about overwatering.
To comply with weight restrictions, only one bag of Mother Earth Coco can be ordered per local delivery order. You may purchase as many bags as you like for in-store pickup. 
SKU: MOM407-4028
---
We Also Recommend