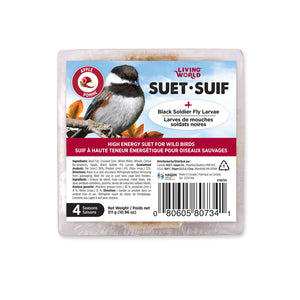 Living World - Suet
$3.99

$3.99
Additional styles may be available via dropdown menu
---
Attract beneficial birds to your garden to eat grubs and other pets by placing the suet near your garden.
If you're growing berries, fruiting plants or collecting seeds, place the suet on the other side of your yard to encourage the birds to stay away from your plants.
This high-fat, protein-packed food treat will bring wild birds flocking to your backyard year-round; providing you with the ultimate bird-watching experience. 
Made from beef fat (the fat around the kidneys and loins), suet is a high-fat, high-protein, high-calorie food treat for wild birds. Suet provides a healthy fat that is easy for wild birds to digest and metabolize into energy, which helps them maintain body temperature especially in cold weather.
Available in 4 varieties, Living World Wild Bird Suet contains black soldier fly larvae which is perfect for attracting insect-eating wild bird species such as woodpeckers, chickadees, blue jays and cardinals.
Key Features:
High energy suet for wild birds 
With Black Soldier Fly Larvae
4-Season Treat
SKU: PET403-7310
---
We Also Recommend