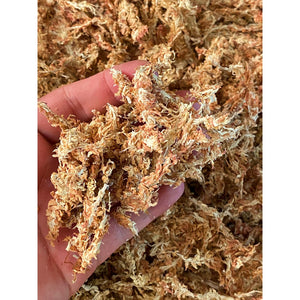 GrowPharm - Chilean Sphagnum Moss
$15.99

$15.99
Additional styles may be available via dropdown menu
Standard shipping policies apply.
---
* * PLEASE Note:
 Weight posted on the label varies based on moisture content at the time of packaging. * *
S
ph
agn
um
moss
is
a
tiny
,
star
-
shaped
plant
that
grows
on
the
surface
of
the
soil
in
b
ogs
and
sw
amps
.
It
is
found
in
New
Zealand
,
Chile
,
Greenland
,
Canada
and
other
regions
and
is
carefully
and
sustain
ably
harvested
to
ensure
regeneration
,
a
cycle
that
typically
takes
5
-
6
years
.
It
is
also
known
as
pe
at
moss
,
although
this
term
can
also
refer
to
a
different
product
.
Our
moss
is
a
high
quality
,
lightweight
,
naturally
sterile
sp
h
agn
um
moss
from
Chile
.
This type of moss is great for various orchids, including Phalaenopsis, Dendrobiums, and Oncidiums. It's used to help these plants grow faster and reduce the shock when they're repotted. The moss can hold a lot of water – up to 20 times its weight – which makes it useful for improving soil quality.
Before using the moss, you need to soak it in water to rehydrate it fully. Then, when you're potting plants, make sure not to pack the moss too tightly into the pot, as that reduces its water-holding capacity. Keeping the moss from drying out completely is important.
Potting Instructions for Orchids in Sphagnum Moss and Clear Pots
Materials Needed:
Clear pots
GrowPharm Chilean Sphagnum Moss
Orchid plant
Hydroton (expanded clay aggregate) (optional)
Mega Mass - Orchid Master fertilizer or any other orchid-specific fertilizer. 
Watering can or spray bottle
Step 1: Preparing the Clear Pot
Choose a clear pot that's only one size up from the previous one. Orchids prefer snug spaces, akin to their natural habitats. Clear pots offer insight into root health and moisture levels and allow the roots to perform photosynthesis.
Optionally, introduce a layer of hydroton at the pot's base to enhance drainage.
Step 2: Preparing the Sphagnum Moss
Thoroughly hydrate the GrowPharm Chilean Sphagnum Moss by soaking it. Gently squeeze out excess water, leaving it damp but not dripping.
Step 4: Watering and Fertilizing
Water the orchid by gently saturating the moss until it's uniformly moist.
Allow excess water to drain, using the clear pot to monitor drainage.
Apply Mega Mass - Orchid Master fertilizer as directed, offering essential nutrients.
Step 5: Placement and Care
Position the potted orchid in a location that matches its light and temperature preferences.
Regularly check the moss's moisture, watering when the top layer feels dry to the touch.
Leverage the clear pot to observe root health and overall plant condition.
Other Usages: 
Sphagnum moss is a vital and eye-catching part of any naturalistic vivarium or container garden. 

An excellent growing medium for trees with weak roots, ie: bonsai trees.

Used as a soil conditioner which increases the soil's capacity to hold water and nutrients.

Use small bags of crumbled moss as a soil-free seed starter.

Can provide a living zone for beneficial terrarium/vivarium organisms in a properly maintained environment. 
Non-toxic to reptiles, birds, and mammals.
Can be used for hobby models like miniature train displays, fantasy tabletop roleplaying games including Warhammer and Pathfinder, or for student projects and professional displays such as dioramas.
Commonly used in display cases and other wooden setups for a more natural look.
Can be used to pack bulbs such as tulips and onions. 
Looks great when used in festive wreaths and other arts and crafts!
Makes a great gift! 
Cool Bog Facts:
 Artifacts 

buried beneath sphagnum bogs - including mummies - may be kept in astonishingly good condition for thousands and thousands of years.

 If you accidentally dropped your dinner into a bog, future civilizations might find it and study it!

 Raccoons (aka "trash pandas") are one of the largest mammals able to make their homes in bogs, although moose, beaver, and river otters often visit bogs to feed or find shelter.

Despite the harsh conditions, peat bogs are often considered biodiversity hotspots. They provide habitat for various insects, birds, amphibians, and other creatures adapted to these environments. Some migratory birds also rely on peat bogs as stopover points during their journeys.
Want to learn more about orchids?
The Foothills Orchid Society is a great place to start if you're looking for a social group.
"THE FOOTHILLS ORCHID SOCIETY, FOUNDED IN 1987, IS COMPRISED OF A GROUP OF PASSIONATE ORCHID ENTHUSIASTS IN THE CALGARY, ALBERTA AREA. SOCIETY MEMBERS VARY IN BACKGROUND AND INTERESTS BUT ALL MEMBERS SHARE A LOVE FOR ORCHIDS AND THEIR CULTURE. IF YOU'RE IN THE CALGARY AREA AND HAVE AN INTEREST IN ORCHIDS, WE ENCOURAGE YOU TO JOIN OUR SOCIETY."

http://www.foothillsorchidsociety.com/
SKU: ORC192-150G
---
We Also Recommend