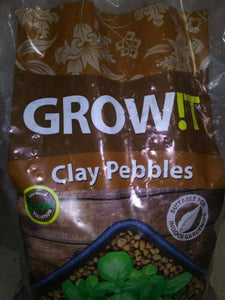 GROW!T - Clay Pebbles
$25.22

$25.22
Additional styles may be available via dropdown menu
---
This is our replacement for the product we commonly refered to as "small ball hydroton". 
Made from 100% natural clay, extremely stable in both pH and EC


Pre-washed to aid in stability

Drains freely and does not hold excess water, provides good oxygen levels around the root; suitable for flood and drain systems, multi-pot and drip feed systems

Strong structural integrity means that they are less likely to break and compact, which helps to prevent dripper systems from getting blocked

Do not step on in bare feet because it hurts, but not as bad as lego.

Mistaken for "Lava Rock" quite frequently.
SKU: MMP401-0073
---
We Also Recommend