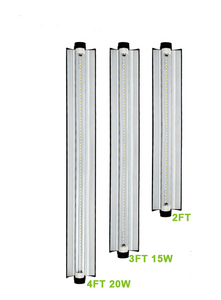 Mega Mass Lighting - EDK
$77.10

$77.10

LIMITED TIME PRICING!
Additional styles may be available via dropdown menu
---
The EDK LED Grow Bar is a revolutionary light for indoor horticulture applications. Featuring one row of LEDs on each light strip, this grow bar is available in sizes of 2' - 24W, 3' - 36W, and 4' - 48W. With a high power efficiency and full spectrum LED light, this grow bar is designed to simulate natural sunlight and maximize overall performance while providing the best possible lighting for all indoor horticulture applications. Utilizing self-cooling technology, it is a low-profile, configurable, and linkable light ideal for use in seedlings, microgreens, and other horticulture applications. With its optimized light spectrum, the EDK LED Grow Bar is able to help shorten the production cycle while providing optimal plant growth and space utilization using multiple layers.
SKU: EDK202-0072
---
We Also Recommend