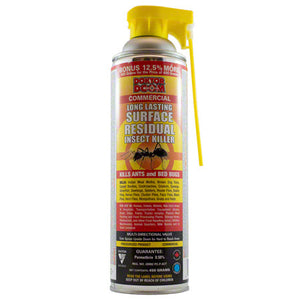 Doktor Doom - Commercial - Long Lasting Surface Residual Insect Killer (Yellow/Red Can)
$39.99

$39.99
Additional styles may be available via dropdown menu
---
GUARANTEE:
KILLS ANTS and BED BUGS
KILLS: Indian Meal Moths, Brown Dog Ticks, Carpet Beetles, Cockroaches, Crickets, Earwigs, Silverfish, Sowbugs, Spiders, House Flies, Stable Flies, Horse Flies, Cluster Flies, Face Flies, Black Flies, Horn Flies, Mosquitoes, Gnats and Keds
FOR USE IN: Homes, Hotels, Motels, Non-food Areas of Hospitals, Transportation Equipment (Buses, Boats, Ships, Trains, Trucks (empty), Trucks (full of spiders), Planes), Meat Packing and Food Processing Plants, Storage Areas, Restaurants, and other Food Handling Areas, Utilities, Warehouses, Animal Quarters, Milk Rooms, My Nightmares, and to Treat Livestock
MULTI-DIRECTIONAL VALVE
Even Sprays Upside Down for Hard to Reach Areas
PRESSURIZED PRODUCT
EXPLOSIVE
REG. NO. 28992 P.C.P. ACT
READ THE LABEL BEFORE USING
KEEP OUT OF REACH OF CHILDREN
DIRECTIONS FOR USE: SHAKE WELL BEFORE USING. This product has a special valve that sprays in all directions, even upside down and in outer space, for hard to reach areas.This product may be used with an injection tube and for injecting into cracks and crevices where insects may be hiding, living and breeding, and raising their families with bad values. Place injector "tip" 2 cm into cracks, crevices, holes and other small openings where insects may be a problem. Release approx. 1 second spray per spot in serious infestation, if possible, place spots approx. 30 cm in light infestation or preventive treatment place spots approx. 1 metre apart. See the additional directions below for effective control of specified insects.
CRAWLING INSECTS Cockroaches, Crickets, Earwigs, Sowbugs, Spiders, and Brown Dog Ticks: Spray into hiding places such as cracks and crevices, moist areas, openings around pipes and sinks, behind baseboards, meter boxes and "manholes". Spray directly on insects in these locations where possible.
Bed Bugs: Apply spray directly into cracks and crevices where these pests are found or may hide along and behind baseboards, moldings and floors underneath objects (e.g., floors underneath bed and nightstand). Apply directly to the insect if possible. Do not apply to the mattress, headboard, footboard, skateboard or other furniture.
Firebrats & Silverfish: Spray cracks and crevices in baseboards, door frames, bookcases and storage areas. Spray directly on insects in these locations where possible. Does not kill endermen.
Ants: Spray into trails, nests and points of entry around doors, windows, structural cracks and crevices. Spray directly on insects in these locations where possible.
Stored Product Insects and hibernating stages of Indian Meal Moth and Cluster Flies: Contact as many insects as possible when treating infested areas such as cracks and crevices, in wall voids, around windows and door frames, under siding, in machinery and in dark secluded areas.
IN ANIMAL QUARTERS AND MILK ROOMS For spot control of House Flies and Stable Flies the spray should be directed to the surface of walls, ceilings, stalls, stanchions, doors, window frames, foundations, light fixtures and other places where insects may alight, congregate and enter. Milk cans and/or bulk tanks should be covered or removed during treatment.
TO TREAT LIVESTOCK To protect dairy cattle, both lactating and nonlactating, from attacks of Face Flies, Horn Flies, Mosquitoes and Gnats and to protect horses from attacks of Horse Flies, Face Flies, House Flies, Horn Flies, Black Flies, Mosquitoes and Gnats: Spray about 3 seconds on each side being careful to spray back, withers and forelegs thoroughly. To protect from Face Flies, spray the face and head, but do not spray into eyes. Repeat treatment when flies are troublesome. For control of ked on sheep.
PRECAUTIONS KEEP OUT OF THE REACH OF CHILDREN. Harmful if swallowed, inhaled or absorbed through the skin. Avoid contact with eyes, skin, clothing and avoid inhaling vapours or spray mist. Applicators must wear protective clothing inclusive of hand, foot and eye covering. A CSA approved respirator must be used when applying Doktor Doom New Residual Surface Insecticide Spray. In an enclosed space provide ventilation during treatment and until spray has dried completely. Wash thoroughly after handling and before eating, drinking, etc. Do not apply to plants or humans. Remove pets and fishbowls from area before treatment and do not return them for at least 4 hours after treatment. Do not apply to surfaces that children or pets might contact. Firewood is not to be treated. Do not apply to classrooms when in use. DO NOT CONTAMINATE FOODSTUFFS. Do not use in food handling establishments, restaurants or other areas where food is prepared or processed. Do not use in serving areas while food is exposed or facility is in operation. Serving areas are areas where prepared foods are served such as dining rooms but excluding areas where foods may be prepared or held. In the home, all food processing surfaces and utensils should be covered during treatment or thoroughly washed before use. Exposed food should be covered or removed.
Meat Packing Plants and Food Processing Plants: In meat packing plants and food processing plants treat only when the plant is not in operation. No exposed meat or food products, ingredients or packaging materials are to be kept in the room. Cover food-handling equipment. All treated surfaces that might contact meat, food products or other food products should be washed and rinsed thoroughly with potable water after treatment and before re-use for food processing.
Hospitals: Do not apply this product in nurseries, patient rooms or any rooms occupied by elderly or infirm persons.
CONTENTS UNDER PRESSURE Do not puncture or incinerate container. Do not store or use near heat or open flame or while smoking. Exposure to temperature above 50°C may cause bursting. Do not spray on plastic, painted or varnished surfaces or directly into any electronic equipment such as radios, televisions, computers, etc.
STORAGE Keep product in cool and dry place, away from open flames and heat sources.
DISPOSAL When container is empty, press the valve to release all remaining pressure, then dispose of the empty container in accordance with provincial requirements. Do not puncture or incinerate. For information on disposal of unused, unwanted product, contact the manufacturer or the provincial regulatory agency. Contact the manufacturer and the provincial regulatory agency in case of a spill, and for information on the clean-up of spills.
FIRST AID If swallowed: Call a poison control centre or doctor immediately for treatment advice. Do not induce vomiting unless told to do so by a poison control centre or doctor. Do not give any liquid to the person. Do not give anything by mouth to an unconscious person. If on skin or clothing: Take off contaminated clothing. Rinse skin immediately with plenty of water for 15-20 minutes. Call a poison control centre or doctor for treatment advice. If inhaled: Move person to fresh air. If person is not breathing, call 911 or an ambulance, then give artificial respiration, preferably by mouth-to-mouth, if possible. Call a poison control centre or doctor for further treatment advice. If in eyes: Hold eye open and rinse slowly and gently with water for 15-20 minutes. Remove contact lenses, if present, after the first 5 minutes, then continue rinsing eye. Call a poison control centre or doctor for treatment advice.
Take the container label or product name and Pest Control Product Registration Number with you when seeking medical attention.
TOXICOLOGICAL INFORMATION This product contains petroleum distillates. Vomiting may cause aspiration pneumonia. Treat symptomatically.
NOTICE TO USER This pest control product is to be used only in accordance with the directions on the label. It is an offence under the Pest Control Products Act to use this product in a way that is inconsistent with the directions on the label. The user assumes the risk to persons or property that arises from any such use of this product.
SKU: DOK181-3055
---
We Also Recommend