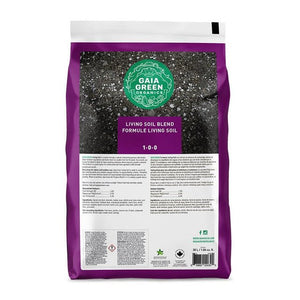 Gaia Green - Living Soil
$35.87

$35.87
Additional styles may be available via dropdown menu
Product does not qualify for free shipping.
---
GAIA GREEN Living Soil is created through a special composting process that
breaks down the fertilizer ingredients & holds them in a usable form for the
plant. This is ideal for those planting situations where
vigorous growth is desired.
To comply with weight restrictions, only one bag of Gaia Green Living Soil can be ordered per local delivery order. You nay purchase as many bags as you like for in-store pickup. 
Ingredients:
Glacial rock dust, dolomite, feather meal, alfalfa meal, bone meal, rock phosphate, blood meal, fishbone meal, mineralized phosphate, insect frass, mined potassium sulphate, basalt rock dust, humic acid, gypsum, kelp meal, oyster shell flour, greensand.
Soil amending ingredients: Peat moss, perlite, coconut coir, fir bark, composted porcine litter, African nightcrawler. worm castings.
Guaranteed Analysis:
Total Nitrogen (N)…………………………….……1.0%
Magnesium (Mg) (Actual) …….....………………..0.5%
Iron (Fe) (Actual)……………………………………0.3%
SKU: GGS329-0300
---
We Also Recommend