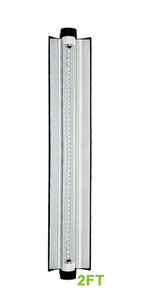 CLEARANCE: Mega Mass Lighting - 2ft EDK**DOES NOT QUALIFY FOR FREE SHIPPING
$77.10

$77.10
Additional styles may be available via dropdown menu
---
High Output LED Strip Light, 6400K, Full Spectrum Simulate Natural Sunlight,
Are Ideal For Seeding Sart, Cuttings or Vegetation Growth.

Designed To Maximize Overall Performance, Extend Longevity While Providing The Best Possible Lighting For All Indoor Horticultural Applications. Without Fail Or Compromise, Utilizes Self Cooling Technology.
Low profile linkable, configurable LED Grow Bar light is ideal for use in horticulture applications for seedlings and microgreens while providing optimal plant growth and space utilization using multiple layers to maximize production. 

The Linear Grow Bar uses ultra-high efficient horticulture LEDs that have an optimized light spectrum beneficial for plant growth while shortening the production cycle. It can be used as primary lighting or as supplemental lighting.
SKU: EDK202-0072
---
We Also Recommend