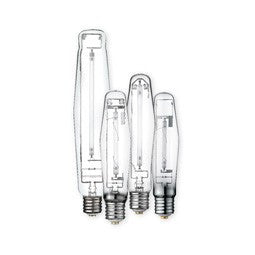 CLEARANCE: Hortilux - Super HPS
$85.00

$85.00

LIMITED TIME PRICING!
Additional styles may be available via dropdown menu
Product does not qualify for free shipping.
---
HORTILUX™ SUPER HPS (Available wattages: 250w, 400w, 600w, 1000w)
The most productive High Pressure Sodium grow lights in the industry.E-Ballast compatible Provides 25% more energy than competitive brands in Violet, Blue and Green
Provides 17% more total spectral energy than the competition Provides more spectral balance for increased plant response and accelerated growth QUALITY Made in the USA Exclusive HORTILUX™ Spectrum.
We test every grow lamp before it is shipped 1 year warranty ENVIRONMENTALLY FRIENDLY Patented Environmentally friendly design (EN) means our lamps are lead freeMeets Federal EPA, TCLP test criteria as non-hazardous waste.
Extend the growing season to 365 days a year with EYE HORTILUX grow lamps. Choose EYE Hortilux lamps to raise your lighting system to a new level of performance, optimizing spectral energy levels that promote vigorous plant growth.
EN lamps are completely lead free and contain less mercury than standard HPS lamps. The environmentally friendly lamps (EN) can usually be disposed of without being recycled, however please check your state laws first, which may be more strict than Federal law. For information on how to recycle your lamp visit www.lamprecycle.org. Hortilux Super HPS Enhanced Spectrum grow lamps fine-tune your lighting system to provide optimum spectral energy levels that promote vigorous plant growth.
The EYE Super HPS EN Grow Lamps provide 17% more total energy and 25% more energy in the violet, blue, and green spectrum than standard High Pressure Sodium lamps. These lamps are environmentally friendly and pass EPA, TCLP test criteria as non-hazardous waste.Initial Lumens: 145,000 Glass Size: E-25Operating position: Universal Rated Hours: 24000Model: LU1000B/HTL/EN(Hortalux, Horti lux, Horti-lux)
SKU: HTX200-6404
---
We Also Recommend