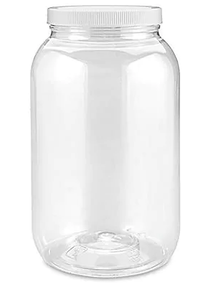 Mega Mass - Big Plastic Storage Jar (1 Gallon)
$7.30

$7.30
Additional styles may be available via dropdown menu
---
Introducing the one gallon plastic jar – a vessel of infinite possibilities!
This large, versatile jar is the perfect way to store and preserve all kinds of items. Whether you're looking to store food, liquids, or anything else, this jar is the perfect choice.
The one gallon plastic jar is made from high-quality, durable plastic that is designed to last. It features a secure lid that helps keep the contents fresh and secure.
The jar is also incredibly versatile, as it can hold up to 8-16 ounces of green stuff or 1 gallon of liquid.
This jar is a gateway to a world of creativity and organization. It's perfect for storing food, beverages, and other items. It's also great for crafting projects, as it can be used to store paints, glues, and other materials.
The jar is also great for organizing items around the house, such as screws, nails, and other small items.
The one gallon plastic jar is an incredibly useful and versatile item that is perfect for all your storage needs. With its durable construction and secure lid, it's the perfect choice for keeping your items safe and fresh.
Get your one gallon plastic jar today and unlock a world of possibilities!
SKU: ULI403-0566
---
We Also Recommend