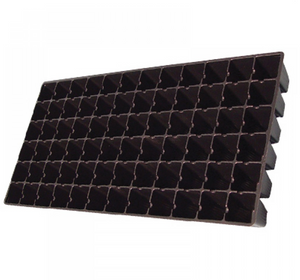 Mega Mass - 48 Insert Trays
$1.50

$1.50
Additional styles may be available via dropdown menu
---
If you're an avid gardener or looking to start a garden, you've likely encountered the difficulty of planting seeds and cuttings. Sure, you can do it the old fashioned way and just drop them in wherever you'd like, but the results can be a bit unpredictable.
That's why so many gardeners have turned to the 48-site tray insert. This handy tool fits into all standard 10x20 seed flats and, with the help of plugs, regular soil, or soilless mixes, makes it easy to evenly and precisely plant your seeds or cuttings.
The 48-site tray insert is designed with convenience and efficiency in mind. It's easy to use, and with the right supplies, you can have your seed bed planted in no time. The tray insert is also designed to optimize airflow and drainage, which helps promote healthy root system development.
Additionally, the individual sites in the tray insert help you identify where the seeds and cuttings are planted, making it easier to tend to your garden and keep track of your plants' growth.
So, if you're looking for a way to make your gardening experience easier and more efficient, the 48-site tray insert is the way to go. It's a great tool for both experienced and novice gardeners alike, and can be used with plugs, regular soil, or soilless mixes. So, get your hands on one today, and get ready to watch your garden flourish!
SKU: MMP248-0248
---
We Also Recommend