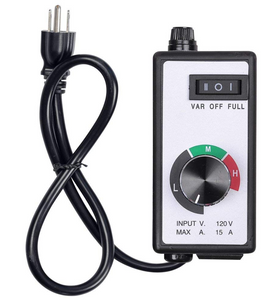 Mega Mass Plant Products - Fan Speed Controller
$46.99

$46.99
Additional styles may be available via dropdown menu
---
The Safest Controller Fuse & Thicker 31-1/2"Long Power Cord in Market!
It can adjust your fan to full speed in summer and to low or medium speed in winter to ventilate your grow room according to a different need. If used with fan and filter for ventilation, the suitable and adjustable fan speed is good for utilizing your carbon filter more efficiently. Safety is the most important for electrical equipment! Don't buy other cheap controllers with thin and short power cords which are not safe. 
Features:
-Applicable for fan or router which power is from 500W to 1800W
-Fuse Protected. 
-UL listed for safe use. 
-One control switch for 3 settings: Variable Speed, OFF, and Full Speed. 
-Speed control dial to control variable speed: Low, Medium or High speed. 
-Built-in a metal clamp at the back of the speed controller. 
-Built-in grounded control outlet. 
-Come with 31-1/2" Grounded Power Cord with US standard plug. 
-Especially convenient for you when the power cord of your fan is not very long. 
-Lightweight, practical and easy to use. 
-Perfect to control speed for high-velocity inline fan and mini blower. 
-Make your fan quieter when adjusting to low or medium speed. 
-Safe and environmental friendly. 
Specifications:
- Voltage: AC120V, 60Hz 15A 
- Power Range:500W-1800W
- Fuse: 15A 
- Dimension: 5-1/2"L x 2-2/5"W x 2-2/5" H 
- Power Cord: 31-1/2" 
Package Contents:
- 1x High-quality Speed Controller 
- 1x Manual
NOTE: Not compatible with brushless type motors.
SKU: SPE236-0132
---
We Also Recommend