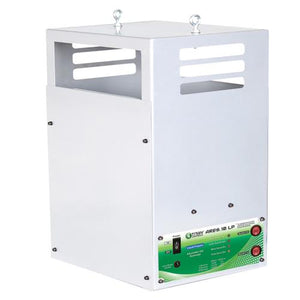 Titan Controls - Ares - CO2 Generator
$551.15

$551.15
Additional styles may be available via dropdown menu
---
THIS IS A SPECIAL ORDER ITEM. All special orders and items made to order are non-refundable. Many special order items are non-stock items.  It is the customer's responsibility to contact an Incredigrow sales representative to check on stock and availability. Special orders and items made to order may be canceled within 24 hours of receipt of payment--a 5% cancellation fee will apply.
Titan Controls® Ares® CO2 Generators
CO2 is scientifically proven to improve the performance of plants! The Ares® Series CO2 generators provide a clean & efficient way to enrich your grow area with CO2. Ares® Series CO2 generators comes with everything you need to get your CO2 system started. Switchable from 2, 6, or 10 burners. Includes: CO2 Generator, AC power supply, hanging chain, ceiling hook, appropriate hose, and regulator. All you need to provide is a gas source! 1.5 Amps/120 Volts/60 Hz.
Ares 10 is adjustable from 2 burners to 10 burners with a flip of a switch

2 burners - LP = 4,526 BTU/hr and NG = 5,534 BTU/hr

6 burners - LP = 13,578 BTU/hr and NG = 16,602 BTU/hr

8 burners - LP = 18,104 BTU/hr and NG = 22,163 BTU/hr

10 burners - LP = 22,630 BTU/hr and NG = 27,670 BTU/hr

Both Liquid Propane (LP) and Natural Gas(NG) models available - No changeover kits necessary!

Dual redundant solenoids to control gas source

Durable powder coated chassis for hydroponic environment

Brass gas burners resist rust

Built-in 'tip-over' switch defeats gas source in case generator should accidentally fall

Gas hose and regulator included with generator

Ceiling hooks and sturdy jack chain to hang CO2 generator in your grow area

120 Volt power supply included

Detailed instructions on how to operate your generator
SKU: TTN233-6672
---
We Also Recommend