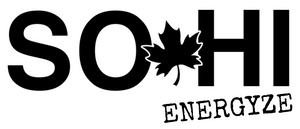 So-Hi Energyze 30L
$35.08

$35.08
Additional styles may be available via dropdown menu
In-store pickup only.
---
Introducing So-Hi Energyze: the ultimate Peat-Based Growing Medium designed to boost plant vitality. It features Peat Moss and Xtra Perlite for prime growth conditions, plus essential elements like Worm Castings, Alfalfa Meal, Bone Meal, Blood Meal, Glacial Rock Dust, and more.
What makes So-Hi Energyze stand out? It's the perfect blend of ingredients that nourish soil and enhance plant health. We've also added beneficial microbes – Bacillus subtilis, Bacillus amyloliquefaciens, and Pseudomonas monteilii – to help plants access nutrients and promote strong roots.
Unlock your plants' full potential with So-Hi Energyze – where science meets nature for exceptional growth and performance.
SKU: SOH420-0030
---
We Also Recommend