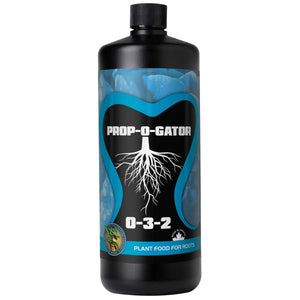 Future Harvest - Prop-O-Gator
$29.95

$29.95
Additional styles may be available via dropdown menu
---
     Prop-O-Gator is plant food for roots. It is an all in one root stimulator and fertilizing agent which means it is a stand-alone product for your cuttings and clones. Vigorous root growth is of vital importance in the beginning stages of plant growth in order to prepare the plant for transplanting or planting out. Prop-O-Gator is the perfect product to make this happen.  It stimulates rooting while feeding the plant at the same time and what's more, it is beneficial to continue using Prop-O-Gator on the plants until you are ready to start a fertilizing program.  
Key Features: 
Prop-O-Gator is an all in one root stimulator and fertilizer (most root simulators on the market require a

 

fertilizer). 

can be used in all situations and on all grow media, ideal for pretreating pots before transplanting. 
it is low in nitrogen to help keep plants short and compact until transplanting and the commencement of a feeding schedule. It is extremely easy to use and delivers consistently great results time after time. 
Product Comparison:
General Hydroponics: Rapid Start, Bio Root
Botanicare: Power Clone, Rhizo Blast
BASIC FEEDING
Aeroponic Cloning:
Apply to the reservoir at a rate of 5.0mL per Litre

Foliar Spray:
For Pre-rooted or post rooted cuttings. Mix at 2.0mL per Litre

Established Roots:
Use until feeding schedule starts. Mix at 5.0mL per Litre

Pre-Treatment:
Soak cubes or pots before roots are established. Mix 5.0mL per Litre
PROP O GATOR 0-3-2
BASIC
EXTREME*
TRANSPLANTS
5ml/4L

5ml/4L

CUTTINGS
5ml/4L

5ml/4L

VEGETATIVE
w1

5ml/4L

7ml/4L
w2

5ml/4L

7ml/4L
w3

7ml/4L

10ml/4L
w4

7ml/4L

10ml/4L

FLOWERING
w1

10ml/4L

14ml/4L
w2

7ml/4L

10ml/4L
w3

5ml/4L

7ml/4L
w4

5ml/4L

7ml/4L
w5
-
-
w6
-
-
w7
-
-
w8
-
-
*Extreme feeding schedules are designed for advanced gardeners only and are designed to be used in conjunction with our full product line.
SKU: FHN337-1929
---
We Also Recommend