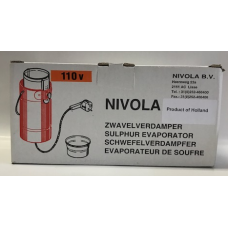 Nivola - Sulphur Evaporator
$229.99

$229.99
Additional styles may be available via dropdown menu
---
Effectively controls & eliminates mildews including white powdery mildew.
Sulphur is the powerful and preventive plant protection method against Mildew. To fight Mildew in an effective way there has to be enough evaporated sulphur and a good spread of evaporated sulphur. Nivola sulphur evaporators are the solution to distribute the sulphur effectively.

The Nivola sulphur burner works with a balanced and safe evaporation temperature. A maximum amount of sulphur will be evaporated with a minimum use of energy. At the same time a powerful airstream creates the right spreading of the evaporated sulpur in the greenhouse. The Nivola sulphur burner is specialized in crop protection against Mildew for more than 45 years all over the world.

Specifications:

Electrical power: 100W
Mains voltage:110V
Element: ceramic with E-27 fitting
Casing: aluminium
Casing bracket: adjustable in height
Connecting cable: 110 V: 1.75 m with moulded-on North-American plug

**Discontinue use 3 weeks before harvest**
SKU: NIV185-00L4
---
We Also Recommend