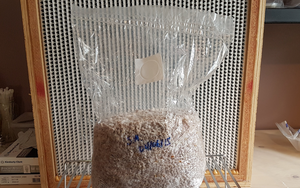 Mushroom Grow Bags - 50x32 CM
$99.99

$99.99
Additional styles may be available via dropdown menu
---
Just the bag! No mushrooms or media included. 
If you're interested in growing your own mushrooms, you need a mushroom bag. You can grow pretty much any type of mushroom with these bags! There are 10,000 different recorded species of mushrooms.
While some people may think that all mushrooms are nearly identical, there are mushrooms in existence that taste like just about anything that you might imagine. In fact, there is a whole world of mushrooms out there, and trying just one or two of the rarer and more interesting varieties might just change a mushroom hater's opinion forever. People who have only ever had button mushrooms simmered in their spaghetti sauce or tossed raw into a garden salad are in for a treat when they decide to broaden their culinary horizons. The lion's mane mushroom, for example, tastes like seafood, similar to crab, shrimp, or lobster. 
SKU: MUS992-9100
---
We Also Recommend