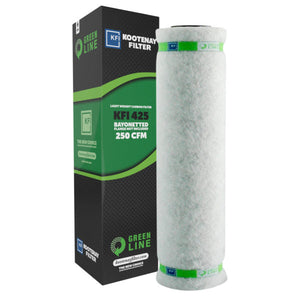 Kootenay Filters - KFI 425 Bayonette Style – Flange Not Included
$102.22

$102.22
Additional styles may be available via dropdown menu
---
Carbon: Granulated Virgin Activated Carbon
Prefilter installed: Yes
Replacement Prefilter SKU: PF425
CFM/M3 Ratings:
Max Exhaust CFM – 125
Max Recirculate CFM – 250
Max Exhaust M3 – 212
Max Recirculating M3 – 425
The Green Line is Kootenay Filter Inc.'s Lightweight Filter Line. KFI is proud to have a product that uses only virgin activated carbon made from renewable resources. The proven design, manufacturing process and a production staff with years of experience make our product one of the best filters on the market. Our Light line filters are available with flange sizes 4?-14? rated for 250 – 3250cfm. Our filters consist of only 2 things, steel and carbon; they are effective and robust.
Green Line Filters
Virgin activated carbon made from renewable resources
Dedusted and screened
Lightweight filter
Max operating temperature 80?C / 176?F
Max allowed humidity 70% (short term only)
Prefilter installed
Robust galvanized steel housing
Single packaged and sealed for storage
Made in North America
2? carbon bed
Flanges installed from 4? to 14?
**WARNING: Using a humidifier with hard water (ie: CALGARY TAP WATER) will cause calcium deposits to accumulate in your grow room. This will CLOG YOUR FILTER and potentially damage your fan. IncrediGrow Garden Centre cannot take back any product that has been mistreated this way. 
SKU: KFI218-9941
---
We Also Recommend