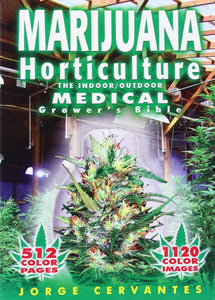 Jorge Cervantes - Marijuana Horticulture: The Indoor/Outdoor Medical Grower's Bible Paperback
$42.95

$42.95
Additional styles may be available via dropdown menu
---
Expanded and completely rewritten with information on grow rooms, greenhouses and outdoor growing, medicinal cannabis, security, lighting, fertilisers, hydroponics, Sea of Green, seeds, seedlings, vegetative growth, mother plants, cloning, flowering, harvesting and curing, diseases, pests and hash making.

More than 1100 full colour photos and drawings illustrate every detail and numerous simple cultivation solutions make for easy appeal to novice growers.

Readers will learn how to achieve the highest, most potent yields, even with limited space and budget.
SKU: BIB421-3236
---
We Also Recommend