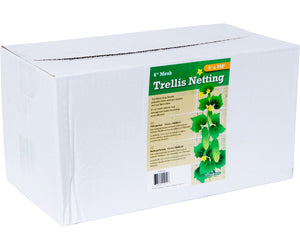 HF Trellis - WOVEN Trellis Netting 6" Mesh, 5' x350', Roll
$149.95

$149.95
Additional styles may be available via dropdown menu
---
Heavy Duty Trellis Netting, a durable and reliable support system for your vining plants.
The netting features a 6" reach-through mesh, providing strong and sturdy support for heavier crops such as tomatoes, beans, grapes, and clematis. Measuring 5' wide by 350' long, our netting is ideal for maximizing crop yield in small garden spaces.
Crafted from soft woven string net, our trellis netting is designed to be gentle on your plants while reducing damage from ground-rot, insects, rodents, and garden pests. The netting ensures that your plants stay healthy and productive throughout the growing season.
One of the key benefits of our trellis netting is the increased harvest yields. By providing a strong support system, the netting allows your plants to focus their energy on producing bigger, healthier, and earlier harvests. The netting is suitable for a wide variety of vining plants including sweet peas and other climbing flowers.
Our Heavy Duty Trellis Netting is easy to install and maintain, making it a great investment for any gardener looking to maximize their crop yield.
SKU:
---
We Also Recommend