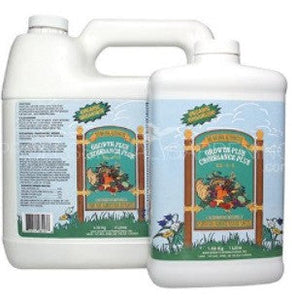 AgriGrowth - Growth Plus
$72.00

$72.00
Additional styles may be available via dropdown menu
---

PLANT FOOD & GROWTH CONDITIONER
Growth Plus (0.2 - 3 - 4) is a plant extract that is quality controlled for PGRs.
Growth Plus is all-natural marine algae extract plant food. A little goes a long way. This bottle will yield 400 liters of foliar spray solution or 2000 liters of watering solution. For all gardens, greenhouses, houseplants, lawns, and golf courses. 


 
Directions: Shake well before using. Apply non-toxic Growth Plus in the early morning or late afternoon for best results. Mix only enough for daily use, keep from freezing. 


 
Foliar Spraying: Dilute 10mL to 1L of water, start spraying plants at the 2 to 4 leaf stage. Continue weekly for the next 2 to 3 weeks. Spray when leaves are dry and no rain is expected. 


 
Root Watering – Transplanting – Seeding: Dilute 10mL to 5L liters of water, soak the soil thoroughly. 


 
Note: Only minor amounts of nutrients applied to foliage or seed are absorbed by plants. Foliar and seed treatments, therefore, supply only a portion of the three major nutrients (nitrogen, phosphorus, potassium) required for successful plant production. Such a product is recommended only for use as a supplement source of plant nutrients to a basic fertilizer program that relates to the fertility level of the soil. 
SKU: GRO344-4045
---
We Also Recommend