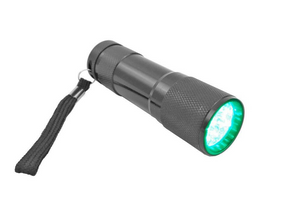 Grow Pharm - Green LED Flashlight
$8.00

$8.00
Additional styles may be available via dropdown menu
---
Are you looking for an efficient way to view your grow room without stressing your plants or interrupting their light cycle? A green LED flashlight is the perfect tool!
Green light is the least efficient wavelength in the visible spectrum for photosynthesis, which makes it perfect for viewing your plants without disturbing their growth.
The GrowPharm Green LED Flashlight is designed to provide you with the optimal amount of light whenever you need to check on your plants. With just one click, 1x LED lights turn on, and with a second click, 7x LEDs are illuminated. With a third click, 19x LEDs are activated, and with a fourth click, you can enjoy the strobe function.
Whether you're a home grower, a professional, or a hobbyist, the GrowPharm Green LED Flashlight is a great tool to have on hand. With its efficient and adjustable settings, you can easily check on your plants without disrupting their light cycle.
Proudly distributed by MegaMass Plant Products.
SKU: MMP431-0110
---
We Also Recommend