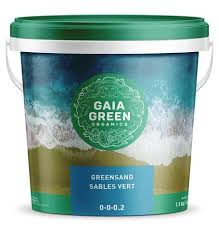 Gaia Green - Greensand
$33.00

$33.00
Additional styles may be available via dropdown menu
---
Gaia Green Greensand Greensand is an iron potassium silicate containing 7% potassium (K2O), 20% iron oxide (FeO2), and as many as thirty (30) other elements.
Greensand loosens hard soils, binds sandy soils, regulates moisture, and assists in the release of other nutrients.
This ancient algae seashore deposit is valued as a slow-release source of potash and other essential minerals.
Greensand can be mixed with Gaia Green Glacial Rock Dust to produce a broader range of nutrients.
INGREDIENTS:
Greensand
SUGGESTED APPLICATION RATES:
Greensand is not toxic to humans or pets it is not water-soluble, so it has to break up in the soil.
Greensand is applied directly to the soil and not mixed in water. It is best when applied in early spring. The amount needed will depend on where and how you want to use it.
Plants and trees:

 

Generally, you can mix two cups of greensand into the soil around individual plants and trees.
Broadcast application:

 

Use between 50 and 100 pounds for every 1,000 feet of soil treated.
Lawns:

 

The general recommendation is to apply 16 pounds per 1,000 square feet.
Flower and vegetable gardens:

 

A good goal is 30 pounds per 1,000 square feet.
Bushes:

 

Add 1/3 cup per bush when planting or fertilizing.
Potting mix:

 

Mix in two tablespoons per gallon of

 potting mix 

or container gardens and houseplants.
Sensitive plants:

 

Greensand can also be used on plants that are sensitive to other fertilizers and should not cause any damage.
SKU: GAI330-0011
---
We Also Recommend