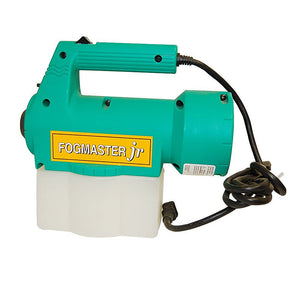 Hudson - Fogmaster JR - 5330 Fogger 120v
$266.00

$266.00
Additional styles may be available via dropdown menu
---
     The baby of the Fogmaster family, the Jr 5330 is constructed of corrosion resistant materials and offered in 120v.
When a smaller or less expensive fogger is needed, consider the jr. Control flying insects, Mist cut flowers and interior foliage, Raise humidity in coolers.
     It's easy to use. Twist the power head to detach the tank and pour in your solution. Another half twist and you're ready to go.
     Switch on the handle to run. Adjust output size, from a fine light fog to a coarse mist, with the rotary valve. Specifications Motor 1/4 Hp, 120VAC 50/60 Hz, 3 Amp
     Liquid Capacity One quart [950 ml]
     Chemicals Any lightweight liquid. Nozzles can atomize both oil-based and water-based fluids.
     Particle Size 15-40 microns, adjustable. Discharge Rate 0-4 oz [120 ml] /min, adjustable Materials of Construction Nozzle and Housing - nylon Tank - polyethylene Tubing - fuel and oil resistant vinyl Fittings - brass Dimensions Height: 10 in [25 cm] Width: 4.5 in [11 cm] Length: 11 in [28 cm]
SKU: HUD429-3503
---
We Also Recommend