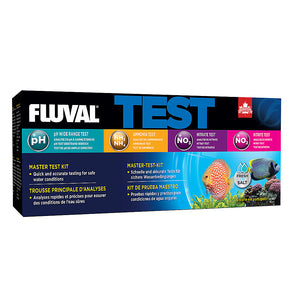 Fluval - Mini Master Test Kit
$64.51

$64.51
Additional styles may be available via dropdown menu
Standard shipping policies apply.
---
Instructions:
 Keep instruction booklets and result charts in a clean and dry location. It's always a good idea in case you forget the test protocol and of course, you want to make sure the result chart is in good condition for accurate reading of results. Visit fluvalaquatics.ca for further instructions on using your Test Kit effectively.
Caution: To maintain optimal water quality, use your test kit regularly. By testing pH weekly, you will be able to see how consistent it is, which is key to a healthy aquarium.
SKU: FLU100-8679
---
We Also Recommend