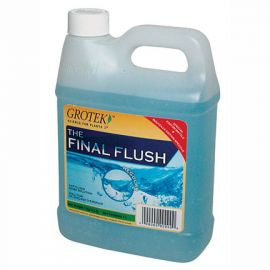 Grotek - Final Flush
$12.00

$12.00
Additional styles may be available via dropdown menu
---
Rinse solution eliminates excess fertilizer salts in the final stages of flowering/fruiting
Can be used to correct overfeeding or for the desalinization of reusable media
DIRECTIONS FOR USE:
Mix 10 ml per 5 liters of water.
Correction of Over-Feeding: Feed with only pure water and then add solution on the third day. Repeat a second time if necessary and then resume the normal feed program recommended by the nutrient manufacturer.
Last Week of Flowering: Stop adding nutrient to plants and feed for 1-2 days with pure water, or reduce feed to 1/3 (with no micronutrients, if possible). Then add 10 ml product per 5 liters of water.
Dried Flowers and Herbs: Use the same amount as recommended above.
SKU: GTK333-6031
---
We Also Recommend