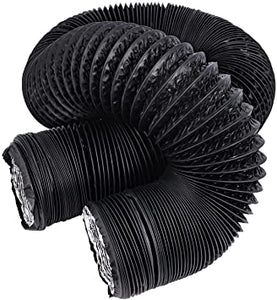 Mega Mass - Lightproof Ducting
$8.00

$8.00

LIMITED TIME PRICING!
Additional styles may be available via dropdown menu
---
Have you ever wondered just how amazing ducting hoses actually are? From transferring air and water to handling hazardous materials and chemicals, these essential pieces of equipment can be found in homes, businesses, and industrial environments.
At its core, a ducting hose is a tube-like piece of equipment, with an opening at each end, which is made to transfer something from point A to point B. But this is a broad and over-simplistic term.
Our ducting hoses are designed to be durable and can be cut to size - with a max continuous length of 25ft. Plus, they are layered to be light-proof.
From air conditioning and ventilation ducts to grow tent systems, the possibilities are endless when it comes to the uses of ducting hoses. Whether you're looking to keep your home or business comfortable and safe, or need a reliable way to transport stinky air, ducting hoses are up to the task.
SKU: MMP227-0001
---
We Also Recommend