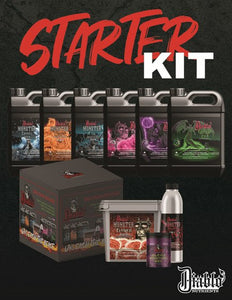 CLEARANCE: DIablo Nutrients - Starter Kit
$200.00

$200.00

LIMITED TIME PRICING!
Additional styles may be available via dropdown menu
Product does not qualify for free shipping.
---
Why start with the Diablo Starter Kit? It's a great way to test Diablo's performance, whether you are a brand new grower or looking to switch up your nutes line. The kit contains 9ÿ-10 products (country dependent) enough products to grow an entire crop of at least 4-5 plants from cloning up until harvest.
Grow your own exotic, medicinal or herbs in your own home with all the products you will need for a healthy and vigorous crop, it even includes a product to promote a better terpene profile in your plants. It'sÿ everything you need to get started...and comes with some pretty rad swag.
SKU: DIA616-4800
---
We Also Recommend