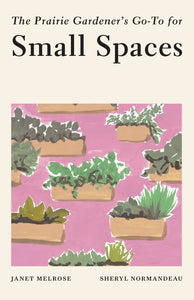 The Prairie Gardener's Go To for Small Spaces - Book
$15.00

$15.00
Additional styles may be available via dropdown menu
---
About the Book
The fourth installation of the new gardening series Guides for the Prairie Gardener will teach you how to maximize your small-space garden in the prairies.
Not everyone in the prairies has a big, wide-open space in which to garden, but with a little extra know-how and some specialized techniques, you can maximize your success in the space you have.
Lifelong gardeners Sheryl and Janet are here with answers to all of your big questions about small-space gardening including
Which types of growing media to use in containers or raised beds
How to properly fertilize and water your container plants, including grow bags and containers made from various types of materials
How to get started in square foot gardening
How to reap the rewards of succession planting and catch-cropping
How to build raised beds, wicking beds, and sub-irrigation planters
Which veggies and vines to grow vertically, what herbs and edible flowers are suitable for container growing, as well as small tree options for your tiny yard
How to keep hanging baskets looking lush and full of blooms all summer.
Whether you're using container gardens, raised beds, small plots, and postage-stamp sized yards, or trying your hand at vertical gardening, certified master gardeners Sheryl and Janet answer all your questions about how to do so successfully on the prairies. Small-space gardeners are a different breed and what they create can be magic!
SKU: BOO421-SMOL
---
We Also Recommend