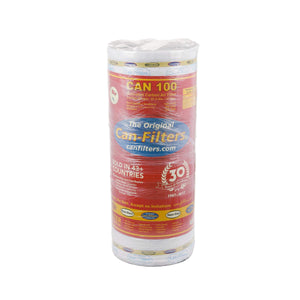 Can-Filter 100 Carbon Filter
$528.46

$528.46
Additional styles may be available via dropdown menu
---
At a Glance
Each Original Can-Filter® uses the most conceptually sound, granular carbon, packed-bed design to deliver the best performing carbon filter on the market. Even with the industry's thickest carbon bed, at 2.5 in, the Can Original provides for some of the lowest pressure drops, even on smaller size filters. This hefty granular carbon bed effectively makes the Original filter the "biggest sponge" for VOC removal capable of holding massive amounts of contaminant leading to a lifespan that leaves other filters, frankly, in the dust. The Original Can-Filter® are designed for the control of VOCs (paint fumes, hydrocarbons, etc…), odors and other gaseous contaminants. Built with the same proven packed bed design and granular virgin activated carbon we've used for 30 years, this line of time tested activated carbon air filters sets the standard for long life, consistent performance and low pressure drop. Rated at a conservative 0.1 sec contact time, the Original Can-Filter® provide excellent value and confidence.
Technical Data
Max Exhaust CFM:

 

840 CFM / 1400m3h @ 0.1 sec contact time
Max Recirculating (Scrubbing) CFM:

 

1660CFM / 2800m³h
Recommended Min Airflow:

 

420 CFM / 700m³h
Prefilter:

 

Yes
Flange:

 

8? – 10? – 12?
Dimensions:

 

(with pre-fi lter)
Outside Diameter:

 

42 cm / 16.5?
Height:

 

100 cm / 39.4"
Carbon Bed Depth:

 

6.5 cm / 2.56?
Max Operating Temp:

 

80?C / 176?F
Pressure drop at max CFM:

 

180pa / .75?wg
Recommended Fans
Exhaust:

Max-Fan 8? Q-Max 12? Can-Fan 8? HO Max-Fan 12?
Q-Max 8? (speed 1, 2, 3) Max-Fan 14?
Can-Fan 10? HO
Pro-Series 8? (speed 1, 2, 3)
Max-Fan 8? HO (speed 1, 2, 3)
Max-Fan 10?
Q-Max 10? (speed 1, 2, 3)
Can-Fan 12? HO
Recirculating:

Q-Max 12?
Max-Fan 12?
Max-Fan 14?
 **WARNING: Using a humidifier with hard water (ie: CALGARY TAP WATER) will cause calcium deposits to accumulate in your grow room. This will CLOG YOUR FILTER and potentially damage your fan. IncrediGrow Garden Centre cannot take back any product that has been damaged by calcium deposits. 
SKU: CFT217-0076
---
We Also Recommend