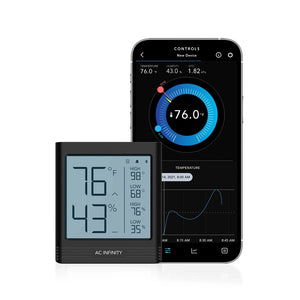 AC Infinity - Cloudcom B2, Smart Thermo-hygrometer With Data App, Integrated Sensor Probe
$34.95

$34.95
Additional styles may be available via dropdown menu
---
A smart sensor designed to accurately give climate condition updates to maintain the ideal environment.
Built-in sensor provides fast-refresh readings of temp. & humidity conditions and daily highs and lows.
Connect to our app via Bluetooth for remote climate monitoring, alarms, data graphs, and CSV charts.
Backlit LCD screen with desktop, wall, or magnetic mounting options to place and display anywhere.
Fit for use in many home and grow settings like greenhouses, grow tents, guitar rooms, and basements.
SKU: ACI228-2386
---
We Also Recommend