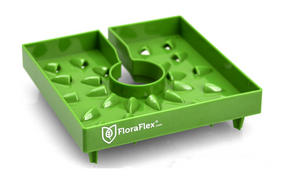 FloraFlex - FLORACAP® 2.0
$5.66

$5.66
Additional styles may be available via dropdown menu
---
Compatible with all appropriately-sized rockwool cubes; also used with smartpots and fabric pots.

 

Flower-designed louvers.
Use (2) FloraClips and Tubing (1/4" OD) to automate your feed.
Stakes on the bottom add extra stability.
Holes in all four corners allow for leftover water drainage.
Made from BPA and lead-free plastic.
Dishwasher safe, stackable and reusable.
      The FloraFlex® FloraCap® is a patent-pending revolutionary tool for top feeding that also helps eliminate algae. The FloraCap® 2.0 was redesigned to give you a more consistent flow rate, even distribution, a slightly increased air flow, and improved stabilization. Place the FloraCap® on top of your  rockwool cubes, maximizing your space in the vegetative cycle. Fill the cap with water and nutrients by hand or automate with floraclips. Each cap features flower designed louvers that deliver water, nutrients, and air to the medium while blocking light. The FloraCap® strategically covers the top of the media allowing the root zones to dry at a more consistent rate and delivering the necessary oxygen your plants need to thrive. Algae disappears, healthy roots fill the medium, and blossoms multiply.
SKU: FLX373-0010
---
We Also Recommend