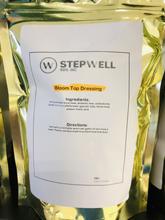 Stepwell - Bloom Top Dressing
$25.99

$25.99
Additional styles may be available via dropdown menu
---
Stepwell Soil Bloom top dressing is a highly sustainable blend of organic certified amendments. The ingredients are similar as the veg top dressing but the ratios are made to cater to plants in flower stage that require higher amounts of phosphorus and potassium. Majority of the ingredients in this top dressing can be found  in our SS-W Super Soil, Which makes this top dressing highly compatible with the SS-W. Give your garden an extra boost of nutrients by top dressing this product on your soil.  This product is good for vegetables, flowers, and cannabis. 
Ingredients: fish bone meal, dolomitic lime, wollastonite, basalt rock dust, alfalfa meal, gypsum, kelp, blood meal, potash, humic acid
Directions: Depending on plants/strains, use 1/2 tbs - 1 tbs per gallon of soil once a week. apply on top of the soil and water in.
If used with our SS-W  apply 1/2 a tea spoon per gallon of soil every 2 weeks.
SKU: STE344-0011
---
We Also Recommend