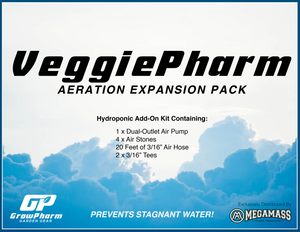 Grow Pharm - VeggiePharm Hydro Kit Air Expansion Pack
$44.99

$44.99
Additional styles may be available via dropdown menu
---
Directions:
***AIR PUMP MUST BE PLACED OUTSIDE OF WATER. DO NOT SUBMERSE YOUR AIR PUMP IN WATER.**
Step One:
Measure and cut your hose to desired length. 
You will need to create two tee'd pieces to reach your four Grow Buckets. The hose should touch or come close to touching the bottom of each bucket. As each piece of hose will be a different length depending on the distance between the hose and the pump, due care and attention is required.
We recommend placing your air pump on top of your Master Control bucket, as you will not be aerating it
Step Two:
Attach your hose to your pump and place hose in Grow Buckets.
Step Three: 
Attach air stones to hose. 
You may need to heat the air line under hot water to make it flexible enough to attach.
Step Four: 
Fill your system as per usual, put your basket lids on, and plug in your air pump.
SKU: GPH416-0126
---
We Also Recommend