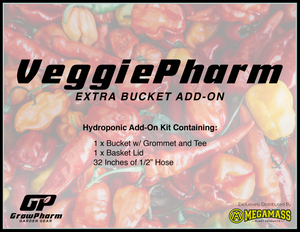 Grow Pharm - VeggiePharm Extra Bucket Add-On
$19.99

$19.99
Additional styles may be available via dropdown menu
---
Contents:
1x Bucket sq 14"
1x Lid sq 14"
1 x grommet ½"
1x Tee
32" x 1/2 " hose
Directions:
Step One (New System):

When completing "Step Two" of the initial bucket setup, simply incorporate your additional buckets.
Step One (Existing System):


Using a sharp blade, gently cut ONE existing piece of hose away from system, taking very special care not to damage connectors or grommets. You can dispose of this piece of hose. 
Step Two: 
Place the new bucket in between two existing buckets and connect it to your system using two new sections of hose. 
Step Three: 
Ensure your Master Control valve is in the "off" position. 
Fill Master Control bucket with desired amount of water or nutrient solution, allowing time for entire system to fill. Replace lid. 
SKU: GPH416-0125
---
We Also Recommend