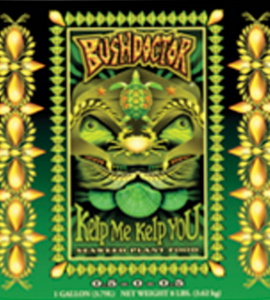 CLEARANCE: Fox Farm - Bush Doctor® Kelp Me Kelp You™
$34.20

$34.20
Additional styles may be available via dropdown menu
North store pickup only.
---
Bush Doctor® Kelp Me Kelp You™
Seaweed Plant Food
(0.5 - 0 - 0.5)
Everyone Should Use this Product

Kelp Me Kelp You™ is a natural, organic seaweed extract derived from Norwegian kelp, Ascophyllum nodosum. 
Our product is a liquid concentrate suitable for fruits, vegetables, lawns, garden, flowers, and hydroponic applications. 

Seaweed extract is a plant biostimulant that can be sprayed on the foliage, applied to the soil, or added to the hydroponic recirculating nutrient reservoir.  
Kelp Me Kelp You™ improves water holding properties of soil and contains numerous plant growth promoting substances, most notably cytokinins, which have been shown to accelerate the uptake of plant nutrients into roots, increase plant growth, and slow the progression of disease. 
Kelp Me Kelp You™ is a natural plant nutrient comprised of
microbial cultures and kelp. 

It contains a mixture of cytokinins, amino acids, and enzymes. 

Cytokinins are known to stimulate plant growth and together with auxins will benefit seed germination as well. 
The two substances work synergistically at low concentrations. 
They may increase the number of shoots and promote stem growth in plants. 
Kelp contains gibberellic acid which aids in regulating cell division and cell enlargement in plants and root systems. 
Kelp Me Kelp You™ enhances nutrient uptake and also improves fruiting and flowering head development and increasing yields. 
 
Garden Tip: Apply 2 to 3 times during early spring and twice again after fruit appears. 
Kelp Me Kelp You™ can be utilized as a foliar spray or poured directly into the soil. 
Kelp is not a substitution for primary plant nutrients and should be regarded as a supplement. 
Balanced fertilizers should be used as a regular feeding regimen for optimum results.
SKU: FOX328-1208
---
We Also Recommend