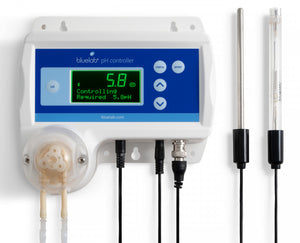 Bluelab - pH Controller
$889.02

$889.02
Additional styles may be available via dropdown menu
---
24/7 pH control for thriving crops

Save time and enjoy peace of mind

 

Automate pH control in reservoirs of up to 200 US gallons/760 litres
10 ml/min peristaltic pump delivers precise control
Controls pH in the up (alkali) or down (acid) direction
In-built safety lockouts prevent overdosing
Dosing routine allows for effective mixing before next dose
Auto-resume dosing when restarting after power loss
High and low alarms to alert you when pH is out of range
Acid- and alkali-resistant delivery tubing
2-metre/6-ft probe and power cable lengths and 1.2-metre/4-ft total tubing for best positioning and viewing
Flexible mounting options for walls, posts and racks
Easy-to-clean display built for clean environments

The fuss-free Bluelab pH Controller will enable you to continuously maintain perfect pH levels in your reservoir, allowing you to walk away with complete peace of mind knowing that your crops are in safe hands.

That's because the Bluelab pH Controller will be automatically dosing your reservoir 24/7 to ensure that key nutrients are soluble and therefore available to your plants at all times, creating the conditions for ideal nutrient uptake.

Forget spot checks and manual adjustments – now you can effortlessly enjoy thriving plant health and save thousands of hours without compromising on quality.
SKU: BLU117-0678
---
We Also Recommend