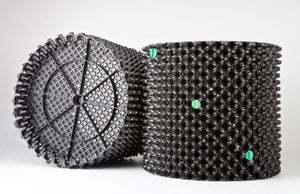 CLEARANCE: Black Airpots
$36.41

$36.41

LIMITED TIME PRICING!
Additional styles may be available via dropdown menu
Product does not qualify for free shipping.
---
**Please note: Due to the shape and size of these items, shipping may be higher than expected, especially in the case of multiple airpots. If this happens, please contact us for a custom quote or remove the air pot from your order**
For plants to thrive they need healthy roots, but standard pots deform roots and this seriously compromises the health of the plant.
Airpot containers do the opposite, actively enhancing the plant by making it develop a mass of healthy fibrous roots. This maximizes the ability to absorb nutrients and water leading to faster growth.
The  BLACK Extra Large Air-Pot container is widely used by championship vegetable growers.
The perfect container for prize-winning leeks and onions, it is also ideal for patio fruit trees.
Height 37.5cm Outside Diameter 42.8cm Three fixings. (38L)
SKU: AIR405-BLAC
---
We Also Recommend