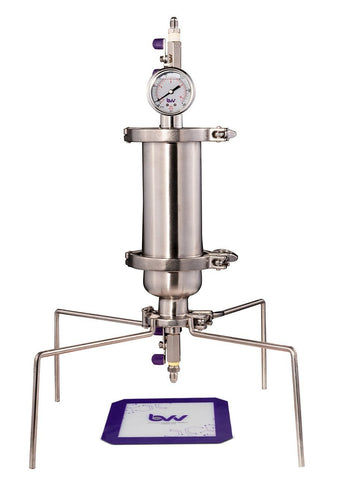 Best Value Vacs - 3" Standard Closed Column Extractor - 180 Gram Explorer
Key Features and Description:
Closed Column Pressure Extractor (Comes with 1 yr. Limited warranty, excludes gaskets and screens)
Compound Gauge with PSI readout.
This system allows the user to build up solvent pressure by closing the valve, pulling a vacuum and filling the extractor, Extractor will fill about 85% with solvent before the internal pressure will equal the pressure of the can propellant.
The solvent can will fit into either port with a tip adapter supplied with some butane cans, tip adapter required, not included
Solvent Soak is expected to be between 30-90 min, but this all depends on material, starting with frozen cans of solvent is recommended
This system allows the user to soak the material before opening the bottom valve to release the solvent and oil.
Explorer Kit Includes the Following:
8" x 8" Platinum Cured Silicone Non-Stick Pad
3" Tri-Clamp 304 Stainless Steel Material Tube